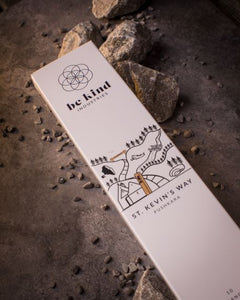 St. Kevin's Way Luxury Incense Pushkara
Regular price
Sale price
€9,50
Tax included.
Shipping
calculated at checkout.
---
St Kevin was the spirit guide of the people when he embraced the journey along St Kevin's way to Glendalough where he established the first roots of the new Celtic Christian era. Orange blossoms incense is a nice blend of resins, musk and florals, often used for wisdom and truth-seeking. Perfect for opening space and creating space for oneself in ceremony, ritual, meditation or yoga practice. To help remove the Vale and see underneath. This luxury hand-rolled blend is exhilarating and cheerful, the result is
a fresh and fragrant breath of unity that enhances the atmosphere and brings a room to life.  St Kevin devoted himself to the study of sacred scriptures and is a well-celebrated Saint in Wicklow, his most noted contribution being in the Monastery of Glendalough. St Kevin was ordained by Bishop Lugidus, following his ordination he lived like a hermit in a cave in Glendalough, a bronze age tomb now known as St Kevin's bed. He lived off the land eating the flora and fauna that was available
in his surroundings. He travelled barefoot and spent his time in prayer similar to a shaman's vision quest or monks. It's interesting how these sacred rituals were practised in all walks of faith and spirituality globally. St Kevin was a harp player; it was his treasured relic. When he wrote his monastic rule it was actually in verse.
After 7 years in the cave, St Kevin became the spiritual leader of the people of the area. From that point on St Kevin and his disciples began to build the churches and round towers of Glendalough.

Pushkara incense is beautifully aromatic, taking the flower of the blue lotus and the wildflowers of the Indian forest and combining the two to bring you this intoxicatingly exquisite luxury hand-rolled blend. Pushkara fills your home or space with a beautiful uplifting scent, offering blissful relaxation and aiding your meditative or spiritual
journey. Find your inner spirit guide.

"May every gentle wind that blows
Send happiness to you"
Irish Proverb