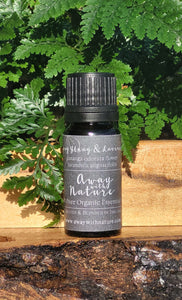 Organic Ylang Ylang & Lavender Essential Oil Blend
Regular price
Sale price
€18,00
Tax included.
Shipping
calculated at checkout.
---
This powerhouse essential oil blend has a beautiful versatile aroma, soothing properties and a calming effect. 
It is unfiltered allowing you to enjoy its natural qualities. This oil helps relieve stress and anxiety, promote sleep, and even fight infections. 
Lavender Essential Oil is a wonderful oil to use during the healing process of minor cuts and scrapes on your children, because it is anti-bacterial, calming and safe enough to use with children when diluted adequately.
Lavender is widely used to relieve stress and calm the nerves, but it also works by increasing mental alertness, reducing depression, and improving memory. This versatile essential oil has been used for centuries to treat acne, allergies, anxiety, asthma and other respiratory issues.  
Ylang Ylang Complete is one of the most versatile essentials in aromatherapy. 
It can help correct physical, mental, and emotional imbalances by improving relaxation, calmness & self-esteem. Ylang-ylang is used to harmonize the human mind and soul which encourages a sense of love and peace.  For its soothing and moisturising effects, it is recommended to tone and balance the skin and moisturize your scalp and hair.
Ylang-ylang oil has strong anti-inflammatory, antifungal, and antibacterial properties. 
Ylang-ylang has long been used for a range of therapeutic purposes including depression, lowering blood pressure, easing anxiety, relieving headaches to name a few. 
Ylang-ylang is famous for being the "perfume of all perfumes" for its strong, heady, floral, and spicy fragrance.  
 How to use - 
Add up to 2 drops of essential oil to approximately 4-5 tablespoons of your favourite carrier oil and use as a massage oil or applied topically to ease aches and pains.
Add 10 - 12 drops of essential oil to your diffuser and enjoy the therapeutic aroma throughout your home. 
Apply 2 -3 drops of essential oil to our Rose, Tigers Eye or Amethyst Lava Bead Jewellery to enjoy the aroma throughout the day or when you go to bed (Can be purchased separately) 
Away with Nature Lavender Essential Oil is a pure and potent oil. It is 100% Certified Organic. You can count on the power of nature to keep you feeling and smelling great.