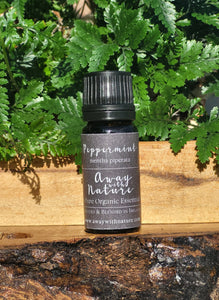 Organic Peppermint Essential Oil
Regular price
Sale price
€15,00
Tax included.
Shipping
calculated at checkout.
---
Our Organic Peppermint Essential Oil has a long history of use in aromatherapy, beauty products and as an ingredient in foods. The aroma is distinctively minty and rejuvenating. 
Use our peppermint essential oil to refresh your body and mind. It helps with tension headaches and eases nausea and vomiting. Inhaling is a great way to rid yourself of negative feelings and regain a positive mood. 
It is known for its energy-boosting properties, making it great for morning use. Peppermint oil is also a natural decongestant and can help purify the air in your home by inhibiting bacterial growth. 
This oil is steam distilled from the leaves of the mint plant, creating a strong aromatic scent that has a fresh, cool, minty smell. It can be used as an invigorating soap to help purify your body while leaving it feeling refreshed after use. Organic Peppermint also has many uses in home products such as room sprays, as well as fragrances for personal hygiene products such as soaps and skin care products to aid in soothing sensitive skin or revitalizing overworked muscles. 
Our Peppermint Essential Oil is food grade so it can be used in a variety of ways, one of Fiona's favourites it to add 2-4 drops to her mug of Cacao each day, extremely good for the digestive system.  
How to use - 

Add up to 2 drops of essential oil to approximately 4-5 tablespoons of your favourite carrier oil and use as a massage oil or applied topically to ease aches and pains.
Add 10 - 12 drops of essential oil to your diffuser and enjoy the therapeutic aroma throughout your home. 
Apply 2 -3 drops of essential oil to our Rose, Tigers Eye or Amethyst Lava Bead Jewellery to enjoy the aroma throughout the day (Can be purchased separately) 
Away with Natures Peppermint Essential Oil is a pure and potent oil. It is 100% Certified Organic. You can count on the power of nature to keep you feeling and smelling great.