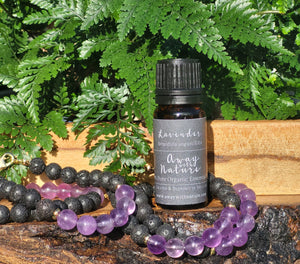 Organic Lavender Essential Oil
Regular price
Sale price
€16,00
Tax included.
Shipping
calculated at checkout.
---
Our Lavender Oil has a beautiful versatile aroma, soothing properties and a calming effect. 
It is unfiltered allowing you to enjoy its natural qualities. This oil helps ease stress, promote sleep, and even fight infections. 
Lavender Essential Oil is a wonderful oil to use during the healing process of minor cuts and scrapes on your children, because it is anti-bacterial, calming and safe enough to use with children when diluted adequately.
Lavender is widely used to ease stress, and it also works by increasing mental alertness and improving memory. This versatile essential oil has been used for centuries to treat acne, allergies, anxiety, asthma and other respiratory issues. 
This 100% pure Lavender essential oil is high in antioxidants. It's great to use on cuts, bruises, burns and bug bites. Add to a bath to help reduce stress and anxiety. The oil is also wonderful applied topically to alleviate pain from arthritis and strained muscles. 
It has a long history of use dating back to ancient times. Its sweet and earthy scent can be enjoyed in a variety of ways through aromatherapy, massage, diffusers and more.
How to use - 
Add up to 2 drops of essential oil to approximately 4-5 tablespoons of your favourite carrier oil and use as a massage oil or applied topically to ease aches and pains.
Add 10 - 12 drops of essential oil to your diffuser and enjoy the therapeutic aroma throughout your home. 
Apply 2 -3 drops of essential oil to our Rose, Tigers Eye or Amethyst Lava Bead Jewellery to enjoy the aroma throughout the day or when you go to bed (Can be purchased separately) 
Away with Nature Lavender Essential Oil is a pure and potent oil. It is 100% Certified Organic. You can count on the power of nature to keep you feeling and smelling great.