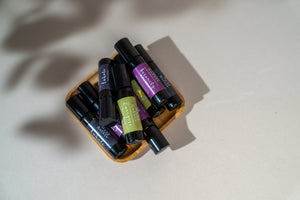 Roller Blend Bundle
Regular price
Sale price
€50,00
Tax included.
Shipping
calculated at checkout.
---
Serenity 
Frankincense which is considered the oldest perfume in the world brings deep, resinous, incense like notes that release a comforting aroma. 
Lavenders beautiful floral scent helps to calm and relax a busy mind.
Ylang Ylang has a wide range of therapeutic benefits. It helps to soothe fear, anxiety, fatigue, easing the mind and comfort the body.  
Sweet orange has a bright and uplifting aroma that helps to ease anxiety and calm the mind. 
Red mandarins sweet, slight floral scent helps to reduce tension and promote relaxation.
Vetivers rich, deep, woody and earthy notes supports your emotional well being helping to balance and ground you. 
 Energise 
Sweet Orange is a refreshing, bright, uplifting & soothing essential oil which helps to ease anxiety and calm the mind 
Red Mandarin promotes feelings of calm, relaxation & inspiration 
Frankincense supports spiritual awareness, concentration & clarity 
Lemongrass has a refreshing, elevating & comforting aroma 
Sandalwood helps to harmonise, calms & balances the emotions while
Vetiver supports the nervous system, it's earthy aroma helps to you to stay grounded, calm and balanced throughout the day 
 Inhale 
Eucalyptus is an antibacterial, anti-inflammatory which helps clear mucus from the airways
Peppermint is an opening, clearing and cooling aroma which helps to fight bacteria and ease sinus congestion
Petitgrain's helps to clear the mind, ease tiredness, stimulate the mind with it's refreshing & uplifting aroma
Please see individual products for full descriptions & ingredients!
Important Note - You must check with your GP before starting a new product during pregnancy. Always do a patch test. May cause skin sensitivity. Avoid the delicate eye area and any other area prone to sensitivity.  
Note: Display props not included